SANT FELIU DE GUÍXOLS, 1942-2008 Alexandre Matas
His figurative creations, characterized by an accurate use of light and a peculiar style of color, recreate environments, corners and idyllic landscapes.
He was born in Sant Feliu de Guíxols (Girona), in 1942, where he joined the Escola d'Arts i Oficis (Art School). As of 1959 he participates in a number of collective exhibitions. In 1966 he presents his first individual exhibition in Platja d'Aro. A year later he devotes himself professionally to the world of paintings. Thenceforth, he has taken part in numerous exhibitions carried out in the most important art galleries, both in our country and abroad.
In 1972 he makes some 8 mm films, such as Frius l'esquimal (Frius, the Eskimo) or Somni (Dreams). He was the founder and director of the experimental group Ninots (Puppets) with which he made several short films as Preludi en ja (Prelude in ha) (1981), winner of the Fil d'Or to the best short film at the 25th International Short Films Festival (1982) in Cannes and the Silver Knight award to the best animation film in Malta International Film Festival (1983); they also shot Missió espacial (Space mission)(1987), coproduced by TV3 and the Generalitat de Catalunya, which was also awarded several prices like the Golden Knight to the best animation film at the 28th Malta Independent Films Festival and the First Prize at the 28th Algarve International Short Films Festival (Portugal, 1989).
Matas is a painter of the nature – open to urban and marine landscapes – which he brings about through subjectiveness, as far as its performance is concerned, and who employs techniques belonging, by heritage, to impressionism. His themes are the final outcome of everything he falls in love with regarding the reality surrounding him: from an intimate corner to an open panorama, by the seaside, where some boats rest, to the expanse of the sea reaching the horizon…
His work is born out of solid structuring. He has a masterly command of drawing which allows him to grant colour all the importance, whether if referring to the description or to the emotional expression transpiring in his paintings.
A palette where no colour is missing and which he uses by way of painstaking brushstrokes with descriptive efficiency, without forgetting that the light effects are also valid to complete the representation. If, in his works, this representation is born out of the reality he draws, the chromatic input is due to poetic interpretations that justify and embellish the plural figuration he cultivates within a version that does not lose the objectivity motivating it. That is, painting natural, naturally.
We can find his work at the Santander Fine Arts Museum, at the Girona Cathedral and at the Municipal Gallery Llegat Francesc Galí, of Palamós.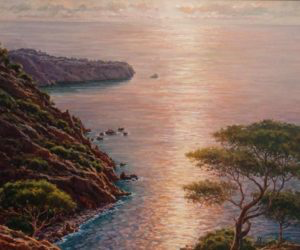 ALEXANDRE MATAS
"30 YEARS … I AND THE LANDSCAPE"