BARCELONA, 1901-1992 Calsina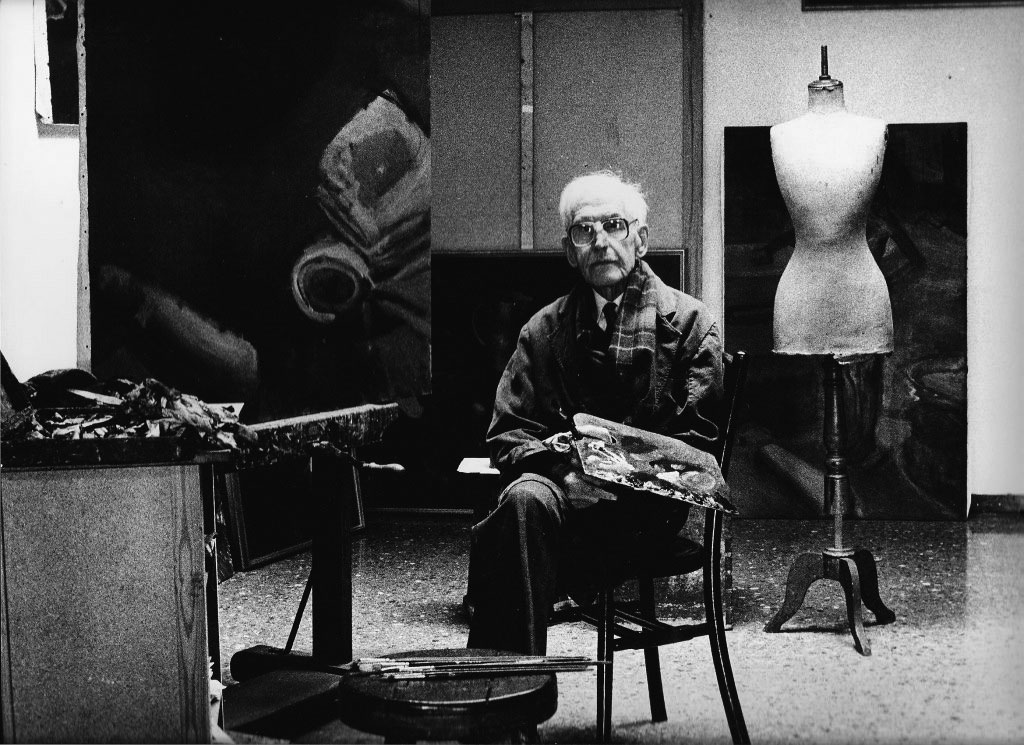 With a personal style, far from the conventions and currents of the time, the work of Calsina highlights, Above all things, by a sublime mastery of technique that allows you to express, with all the mático, super personality.
Voluntarily out of fashion, he never admitted the advice of anyone in his production, nor wanted to paint what the public wanted..
BIOGRAPHY
1901. Ramon Calsina was born on February 26, 1901 in Barcelona. His parents had a bread oven and housing in a house on the street of Castaños before the Union Market and behind the Casino de la Alianza. This was the very center of Poblenou, a town recently annexed to the great Barcelona and which had become, due to the industrialization of Catalonia, a concentration of factories and a neighborhood of workers with many social, cultural and spiritual concerns, and also loaded with conflicts of all kinds.
The little Ramón was marked forever by that dynamic, hard and with so much personality. His sensitivity was imbued with the images of that world.
1913. Since childhood he showed his inclination as something very natural: "I was born drawing as another born hunchback," he said. Paper that fell into his hands, paper that filled with scribbles, and this was always his grace before family and acquaintances.
When he was 12 years old, he started the Low School of drawing until he was 14 years old to enter Llotja, the School of Fine Arts, at night, and to work at Casa Espinagosa, where they made artistic stained glass windows.
1923. After finishing his military service and after working for a few months in the family oven, he decided that if he wanted to be an artist, his dedication should be total. I kept going to Lonja for specific classes and the rest of the time trying to make my way. He opened a studio in the street of Girona with his friend the painter Miquel Farré y Albages.
1929. The year of the International Exhibition in Barcelona, ​​his colleague Miquel Farré won the first prize of the Amigó Cuyàs Scholarship at the national level, and he, the second prize, both with a financial reward. They spent several months traveling through Spain: Madrid, Seville, Granada. In this last city they had a relationship with the musicians Falla and Arbós, and they also knew García Lorca.
1932. This year Ramon Calsina won, alone, the same scholarship, but the international, to go to Paris. Disgruntled to have to leave alone was with his friend Farré, sharing the prize money. The stay in Paris lasted a year and a half stretching as much as possible, and it was very profitable. He worked hard and appeared in different exhibitions, including the Societé Nationale de Beaux Arts, the Salon des Humoriers and the Salon des Superindependents, and also published drawings in the German magazine Dersa Quersnit. His way of doing so personally attracted the attention of critics and perhaps would have opened the way to Paris, but he preferred to return home.
1934. Ramon Calsina presented his works wherever he could, but it was in 1934 that he made his first solo exhibition in Sala Parés with 47 paintings and 17 drawings. This exhibition was an event, there was an echo and most of the reviews were very good, some not because they found it too caustic, but everyone highlighted a magnificent job.
It was very celebrated among intellectuals, especially among the literati where it has always had the greatest enthusiasts. He made the decorations and the posters of the plays Hunger by Joan Olivé and La boda de la Xela by Xavier Benguerel. Unfortunately, that good moment did not last long because the Civil War came.
From 1932 to 1939 he taught at the School of Fine Arts where he studied for many years. They were night classes for those who worked and the same students chose him. They were some classes without a budget and waiting for them to arrive, he spent seven years without being paid.
1939. With the defeat of the Republic there was the exile that left Catalonia without intellectuals. Ramon Calsina also spent in France but a few days, faced with the possibility of a long exile decided to gamble and return. He spends a few months in the bullring of Vitoria turned into a concentration camp until he got back home.
He started a very difficult stage with all his guarantors far from the country and in an environment that was hostile to him. He locked himself in his studio to work preparing the exhibition every year and staying away from the artistic currents that were imposed. He was not at all unsociable, what happened was that he liked his work a lot and spent as much time as possible, and was unable to move in commercial environments and with a way of understanding artistic work that did not share anything.
1945. He was married and older, 44 years old, with Rosa Garcés, who was 22 years old and had three children. The economic situation of such an independent artist was very meager and that was the main cause that made it so great. But he found a woman with a lot of drive, who believed in him and in his stubbornness and the integrity with which she faced the situation allowed him to continue doing what he believed despite the inconveniences that this represented.
He dedicated himself to lithography and made a book with 30 lithographs commented by himself. In collaboration with the publishing house La Osa Menor he published a book of lithographs of Don Quixote and plates on subjects of bulls treated in a very unconventional way.
1957. That year's exhibition at the Syra gallery was important. A group of friends and cultural entities took the opportunity to pay homage to him and among several initiatives, a subscription was made to buy a magnificent oil and the Museum of Modern Art of Catalonia was given. Taking advantage of the relative economic success of the exhibition during the months of June and July of this year, Ramon Calsina came with the family in Menorca, in the fishing village of Fornells. It was a magnificent stage for everyone and he painted 18 canvases that were exhibited, before leaving, in the house where they lived, on Calle del Mar num.5, and the whole town paraded through the improvised exhibition.
1965. That year was a turning point in the life of the artist. The owner of Muebles La Fábrica, Estrada Saladich, became a patron of art and devoted himself to acquire paintings with the idea of ​​creating his own museum. One of his favorite artists was Ramon Calsina and he bought him a good amount of oil for a million pesetas. In addition, he organized an exhibition of drawings and a lecture. He was also awarded the prestigious Inglada Guillot drawing prize. All this coincided with a period of economic prosperity in the country and also in the pockets of its admirers. As of this moment the situation improved; his needs had always been minimal, this did not change, but he could forever ignore the forced economic demands of a family and this was a liberation.
He made some great artistic stained glass windows for the church of San Esteban de Granollers. Some stained glass engraved in the sand about trades by the Transatlantic Bank of Barcelona. One of his great illusions could be fulfilled, he illustrated Don Quixote and the stories of Edgar Allan Poe for Ediciones Nauta.
1984. Calsina has always had a loyal and enthusiastic public, but little official recognition; this never changed outside of a few specific moments. On the other hand, if you review what has been written about him he has a considerable entity and there is unanimity in many aspects: an extraordinary office that allows him the total freedom to express a exuberant personality; recognition of his integrity, to be faithful to some convictions in a changing way to the absurd; admiration before a moral attitude that puts above all transcendent principles.
In 1984 this admiration arose and a large group of poets, writers, artists and intellectuals, headed by the beloved Avel·lí Artís "Tísner", made a call that was the starting point for the disappeared Caja de Ahorros de Barcelona, With the collaboration of the Generalitat of Catalonia mounted an anthological exhibition in a room of this box in the Paseo de Gracia in Barcelona. Among the signatories of this letter, written by Pere Calders, there were half a dozen Honor Awards of the Catalan Letters.
1990. Ramon Calsina did not have any monographic book about his work and as he had always wanted it, decided, with his own money and family collaboration, to get to work. The result was very good because the book is very well resolved, but naturally and, above all, by its content. It is a magnificent presentation letter for those who have not heard of Calsina can take care of who is without many words.
1992. Ramon Calsina always had an enviable health and a great vitality that allowed him to work until shortly before his death. They were 60 years of dedication to their passion: "I paint because I like it, I like it a lot, I think it's a gift from God, I paint every day, I tell you that I enjoy this job because it's a real job, you have to put effort and, even more, the fire that is inside each one, this is very personal. "This he told a journalist a few months before leaving this world, and he did so with full awareness of the step he was going to take. It was on November 26, 1992.
He had made one last exhibition that January with work from the previous year and his only revolt was from the summer when he realized that he could no longer paint.
We could define Ramon Calsina as the painter who was never fashionable. And, on the other hand, the contemplation of his work does not usually leave indifferent. Perhaps the fashions in art obey to interests far from the ultimate goal of Art that is, perhaps, the intimate and personal dialogue of the spectator with each work.
RAMON CALSINA AND HIS ARTISTIC GREATNESS
by Josep M. Cadena
The great artistic work and the strict human form of Ramon Calsina Baró (Barcelona, ​​Poblenou, 1901-1992) are, fortunately, well established. Virtually no one among those who are good connoisseurs of the draftsman and the paint, as well as those who have their own criteria, do not put it through the roof for what he did and for the ethical way that took place before the society of his weather. All of them agree with the writings of Avel·lí Artís Gener Tísner, who in several texts, published when the artist lived, declared that he was the greatest living painter of the current Catalonia. And most of them lament that the circumstances of those times -Calsina was eight years old when the Tragic Week took place and felt as a crushing slab the long period that began the civil war and lasted during the Franco regime, when he was in full of creative faculties- will not help in anything to the international projection to which by qualities could access. Although also -we have to say to reject it- there were people with power and willingness to exercise the same, who frontally rejected their topic. Because on him and his work spread very adverse judgments and, even dangerous for the long period that ran, that through the injustices that spread the Eixalà and helped limit the projection to which he had right.
Now, the Rusiñol Gallery celebrates its twenty-five years of constant and fruitful work in favor of art, with special emphasis on what is done in our land, and has wanted an exhibition of tribute to Ramon Calsina to be the main commemorative act of this quarter of a century of continuous work. I celebrate it very sincerely, because he was a person and an artist -in his case I never separated him- who is among my favorites. Since the sixties -from that half a century ago he was in my annual presences to the now disappeared Pinacoteca, in Paseo de Gracia in Barcelona, ​​and journalist in exercise on cultural issues, in El Diario de Barcelona (28-11-1171 ) I was able to publish an extensive article where he claimed his artistic work, because in this plural way he gave us an example of probity and service to the great human constants.
Absolutely personal, as much in the painting as in the drawing and the engraving, Ramon Calsina was, essentially, of all those who saw his work and we felt represented by what he said in it. Children faixats that took off like a balloon; citizens running to escape police charges; masses to make bread that, in addition to feeding the body gives implus to the spirit; good people and others – many more, unfortunately – who, with their antics and their abundant vices warned us that we had to flee their practices; landscapes that, from the factories where lives slipped the most idyllic places, realized how human life goes through several facets and that depend on us and the ways we have to focus the results to obtain .
The critic and writer Enric Jardí and Ramon Calsina Jr. published in 1990 a book about the painter. It came out, as the colophon said, on November 30 of that year, the feast of St. Andrew-patron of Poblenou-and it was, at a time that was very much given to literature about artists, the first thing that was done about their person in the sense global. Sorry, but corrected by those who fought to get it. And then, from January 18 to February 5, 1994, the Pinacoteca organized an exhibition of homage, which was very famous for the work it collected. The director of the room, Rafael García Esmatges, affectionately known by the Pinacoteca, a motif inherited from his father, addressed the spirit of the painter and concluded: Dear Calsina, you left us in silence, with the duty fulfilled; You left when you needed us the most, but maybe … Heaven could not wait. Such was the case, but we, here on earth and without ever giving up wanting to accompany him, when the time comes, in heaven where he is, we have to keep fighting so that the new generations remember who Ramon Calsina was. And the best way is now, with an exhibition like this one.