ALBAIDA, 1936 Eustaquio Segrelles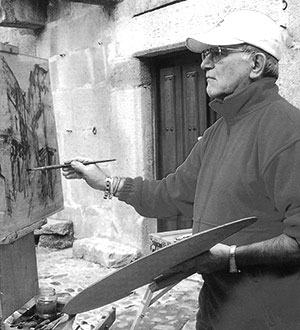 Express the intensity of the moods by the burst of color.
He puts all the elements of his magnificent office at the service of an explanation of how we are in reality human beings.
THE VITAL REALISM OF EUSTAQUIO SEGRELLES
by Josep M. Cadena
The work of Eustaquio Segrelles del Pilar (Albaida, Valencia, 1936) takes us on many occasions to the paintings of Sorolla and other great Valencian masters who, in the past, interpreted the struggle of fishermen and Levantine farmers to ensure their subsistence. In the first instance, it seems to go back to a distant time, both in the representation of the clothes of men and women and in the elements that they use in their work to obtain fish from the sea that are increasingly scarce. They say that fish is expensive! he called with offended dignity the title of the famous painting. But beyond some accidental forms there is the survival of realities that are very current: the effort, the daily need to face the sea, the fear of tragedy, the joy in spite of everything … and the intensity of these states psychic, the painter expresses it through the bright color that defines sand, water, sky and clouds.
Nephew of the great José Segrelles and cousin of the always powerful Vicente Segrelles, Eustaquio Segrelles belongs, by impulse of the blood and by right acquired on the occasion of his work, to a way of expressing himself plethorically that overcomes the contingencies and affirms the essential realities of the people . Before his works you have to be honest in judging them, just as he is when he does them, and that is why I think it is necessary to say that the artist puts all the elements of his magnificent work at the service of an explanation of how we are in reality human beings.
We live in a world that goes very fast in its external forms. And precisely for that reason it is necessary that we meditate if really the changes are true. And in the work of Eustaquio Segrelles I find that there is, very well joined, a plastic richness that leads us to reflect on the permanence of true human feelings in relation to the superficial evolution of forms. His men, women and children are real, and they explain what life is like. So, an excellent exhibition to celebrate the twenty-nine years of sincere commitment to the art of Ignacio and Victoria Cabanas at the head of the Rusiñol Gallery in Sant Cugat. Congratulations!