VILANOVA I LA GELTRÚ, 1965 Jordi Santacana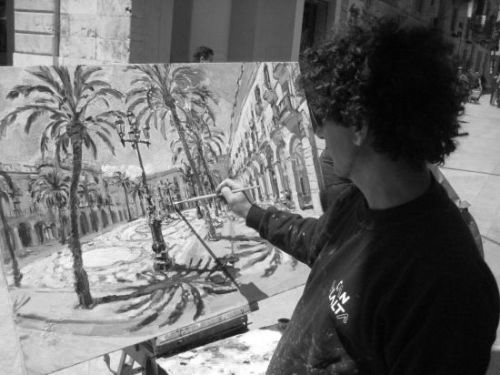 He works almost all his work in plein air. Restless, hipster and committed to ecology.
Nature is the main theme of his work, especially plants and trees, but also works on urban, marine and rural landscapes.
JORDI SANTACANA AND THE IMPULSE OF LIFE
by Josep M. Cadena
The pictorial expressiveness of Jordi Santacana (Vilanova and la Geltrú, 1965) is an obvious fact, which is found in all his paintings, even in those in which the artist wants to explain in a more leisurely and calm way. Strength and feeling boil in his work when he reflects the field with his crops or with his groves, as well as when he moves the sea and the waves that crash against the rocks to the canvas.
The painter delves into the natural forces that attract him so much and takes advantage of both the twisted branches and the bursting of the white sea foam to convey deep aesthetic emotions. At the same time, urban centers such as Barcelona or Cadaqués are also worthy of attention. From the Catalan capital we identify the towers of the churches that point to the sky, the unmistakable architecture of Gaudí and the port that invites the trip and opens the arms to novelty. From the municipality of Empordà, so associated with Dalí, we recognize the high church of Santa María that contemplates the boats of the fishermen in the sand of the bay, ready to go to the sea always uncertain.
I have memory of Jordi Santacana's paintings since the early eighties. I can even specify that on April 8, 1983, I accompanied him with a letter from me – brief but complimentary – the catalog with which he announced his first exhibition, held in the premises that the then Bank of Bilbao had on the Rambla Principal in Vilanova. This route, in full summer foliage, was one of the reasons for the author's canvases that were then only eighteen years old. There was also a painting with houses of white facades that evoked the spirit of Arengaders Street, in the Geltrú. A tribute to the origins, in which Joaquim Mir's mastery was noted. Since then, at the end of the 20th century, the value of Jordi Santacana has been growing and affirming itself, and now, at the beginning of the 21st century, we have a painter in full faculties of his pictorial domain.
Jordi Santacana has a figuration that speaks through the landscape and expresses itself with colors and shapes that get us excited and make us participate in the most transcendent and elevated truths, emotions and feelings.