BARCELONA, 1940 Vives Fierro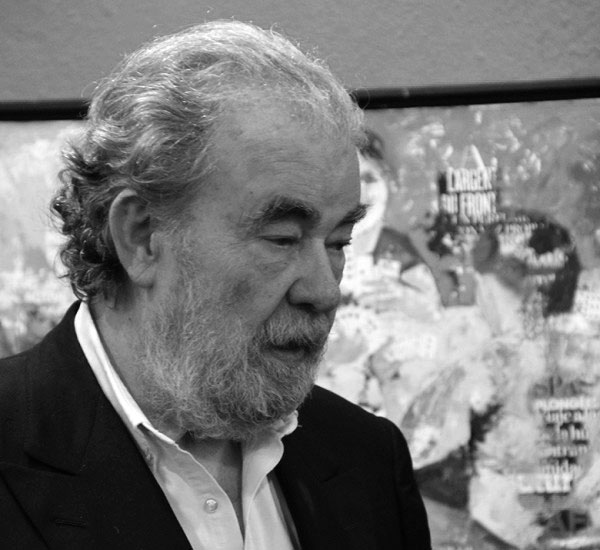 It takes advantage of very diverse elements and that arrive as if by chance their knowledge so that, located individually out of context, they create a new pictorial dimension.
Part of cities as living organisms to create works with plural and dynamic personality that are reinforced with their painting-collage technique.
BIOGRAPHY
He studied at the Llotja de Barcelona. At twenty he moved to Paris and later in London, New York and Geneva, where he made contact with painting and museums. In 1962 he returns and presents his first exhibition in Cartagena. Two years later a large itinerary of exhibitions began in our country. At international level his work has been exhibited in Switzerland, France, Greece, Cuba, New York … as well as museums, among which we can highlight the Reina Sofía Museum in Athens or the Olympic Museum in Lausanne. He has also presented monographic exhibitions at the Gran Teatro del Liceo and the Palau de la Música Catalana. He has won several awards such as Drawing of the Royal Artistic Circle of Barcelona and there are many publications dedicated to his work.
An artist who knows how to look beyond what he sees, takes advantage of the brilliance of all social activity to find the links with a much more complex society and that knows the difficulties in which human beings move in many parts of the world. Part of cities as living organisms to create works with plural and dynamic personality, with construction and destruction at the same time, with posters and signs that are part of a set that is primarily communicative from the shapes and colors.
THE VITALIST PAINTING OF ANTONI VIVES FIERRO
by Josep M. Cadena
Personally, I have always followed with great esteem the artistic career of Antoni Vives Fierro (Barcelona, ​​1940) since the mid-seventies of the twentieth century – written like this seems an eternity, and perhaps it is, since forty years constitute a Quite remarkably we collaborate in the realization of a book about the charms of Barcelona, ​​and I can say that this artist, in whom living and painting are one and the same thing, has amply demonstrated in the successive topics that he has dealt with -the streets of Barcelona, ​​the European capitals, the Cuba to which he has traveled with assiduity, dolls or children – a successful will to move forward.
Vives Fierro loves life, and his painting wants us to participate in the joy that the author experiences before a series of pleasurable manifestations that the existence puts at our reach, and that often, perhaps because we are too busy, we do not appreciate and enjoy properly . The painter feels comfortable in the cities, a space of progress par excellence. But its city, which claims, is not dehumanized and aggressive, but it is a habitat where it is possible to walk quietly and where nature is present in the form of trees and rivers that come from mountains and die to the sea. In this ideal urban nucleus even the traffic is civilized, and the couples that circulate in wasp, like Gregory Peck and Audrey Hepburn in Holidays in Rome, exhibit smiles of happiness. And also the tourists who move in rickshaw, to savor a landscape requires a slow pace of movement, they are satisfied, since knowing other places and cultures always pleases the restless soul.
Vives Fierro is an artist, which is why he is particularly interested in artistic manifestations. So we have a pianist who seeks to spread his joy, a drum that sets the pace and a painter who traces colored shapes among which a red heart stands out. And although, beyond the strict numus clausus of the Fine Arts, but with an equal aesthetic aspect, there is a gymnast who practices acrobatics, a couple who dances and a cabaret artist who combines the femininity of the stockings and of 'one shoulder to the air with a male hat. At the same time, a young woman who has adopted the position of the lotus and practices yoga represents spirituality, and a conjuror who keeps a woman suspended in the air reminds us of the magic that should never be missing in our lives.
I believe that Vives Fierro is at a very free moment, without pressure, and that this benefits us, since it allows us to enjoy more intensely his art, a work in which he especially highlights the love for everything that makes the heart happy , please the mind and fill the spirit, a vital attitude that is a lesson to be learned.