VALLS, 1943-BARCELONA, 2010 Almazán Miquel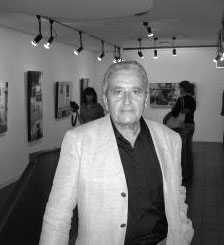 His paintings, in which Past and Present combine, are a reflection on the passage of time.
He studied at the Industrial Master's School of Tarragona and as a painter he is self-taught.
BIOGRAPHY
He began very young to manifest himself artistically through graphic illustrations in the publishing world. And although this professional path was easy thanks to his talent, while at the same time profitably profitable, he preferred the risk of a fully realistic painting that, structured on the precision of his drawing, allowed him to express the feelings in a more subtle and lasting way.
PICTORICAL TRIBUTE TO THE PAST OF ALMAZÁN MIQUEL
by Josep M. Cadena
His paintings, in which past and present combine, are a reflection on the passage of time. We find milkmaids, oil lamps, scrapping vehicles, sharpening molasses, empty bottles, boxes of cookies and other items that once had a useful life and that now remain forgotten in a backyard or in a room of entanglements. The painter, with his sensitivity, vindicates the dignity of some utensils that, after making our existence easier, lie abandoned in a corner. These objects have the virtue of telling us so much of distant times -when we had to go to look for milk in the dairies, the lighting was not electric and the sharpener was advertised in the streets with a whistle- as well as illusions and past emotions -when children kept small treasures in tin boxes and rode bicycles in the summer village.
The artist is comfortable painting some town houses where nature is very present, in the distance, in the form of landscape, and in pots that adorn the facades. The roofs have a great role, since they express the desire of the human being to free themselves from the material limitations and ascend to a universe of spirituality, in the same way that the smoke escapes through the chimneys towards the sky.
The port activity is another topic of interest for the painter, and in the exhibition we find canvases that were exhibited a little over a year ago at the Maritime Museum of Barcelona, ​​in an exhibition inaugurated by the president of the Port Authority of Barcelona, ​​Sixte Cambra. The port captivates because it is a space for exchange, a starting point for adventure and the goal of the journey undertaken.