PRAGA, 1958 Katerina Alavedra-Duchoslav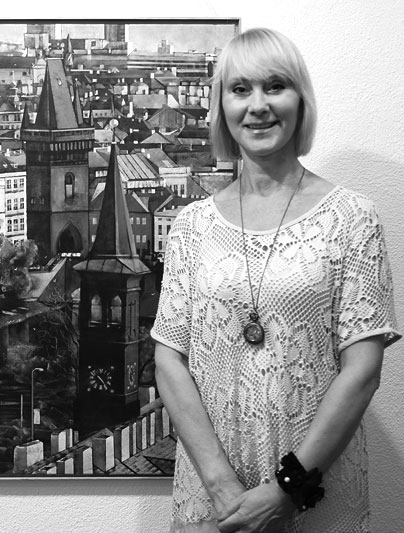 Reflective in the construction of the works, as well as in the selection of colors, but at the same time lover of experimentation in the original approach that gives his works.
His style and theme are very personal: Czech urban themes, figure, still life or sometimes almost geometric landscape, with bright and warm colors.
BIOGRAPHY
Finished his studies in Switzerland (Basel), at the Higher School of Commerce and the Kunstgewerbeschule, he leaves art aside and works in the commercial and translation sector.
After a forced political exile in Switzerland in 1968 and once married, she moved to Sant Cugat and this is where she rediscovers what she lacked for so long: Art and painting.
In 1998, during the presentation of the National Award of Catalonia to the then president of the Czech Republic, whom Katerina translated, and in the presence of President Pujol, Miquel Roca and Baltasar Porcel, the latter was interested in his painting, which encouraged him to present his work to the public.
At the Municipal School of Art of Sant Cugat he quickly connected with other artists and professors, and after a short period of reflection, he opened his first solo exhibition in 1999, in which he followed exhibitions abroad.
He has obtained several painting prizes and has participated in TV programs in Catalonia and the Czech Republic.
PERSISTENCE AND PROGRESS OF KATERINA ALAVEDRA-DUCHOSLAV
by Josep M. Cadena
According to what is established in an old tradition -who already have a certain age we remember it as if it were always-, once the summer has passed, with its heats and the diaspora of temporary changes of residence, a new season is inaugurated artistic. I welcome it, since the continuity in good habits -like those that try to reinforce the bonds between all of us who love the plastic arts- is always convenient, and even more so in an era like this, affected by strong turbulence that fortunately, according to Those who know tell us, they begin to subside.
Hence, the Rusiñol Gallery opens its exhibition calendar 2014-2015, and the painter Katerina Alavedra-Duchoslav -who left us a very good memory when, I think it was in 2002?, Already presented us with her first exhibition in this room, a sample titled of the feeling, in which she showed her undeniable creative aptitude, together with the sincerity of her emotions – she is in charge of starting a new stage more.
The exposed work of Katerina Alavedra-Duchoslav offers us a good testimony of constancy within the vocation and of perfection in the expressive forms. In this way he shows us that, regardless of the circumstances that affect us in professional activities -To practice and practice the arts in general is also a profession- and private decisions in which everyone has a perfect right, we must be stubborn and maintain – be firm in your own ways of being. And that is what this persistent artist does in projecting her wide capacities to understand her original environment -the one in which her rich and attractive plastic personality was formed- and capture it through, as she correctly defines, the colors of her life.
Own life, but also collective life is what we find in the paintings that Katerina Alavedra-Duchoslav is now presenting, which she has been living for years in Sant Cugat for family reasons, which she knows how to evoke with her work rooted in cities in central Europe represented by cafes, roofs and music in the street, a constructive sense of life in common vindicating the respect that each person deserves for themselves and their neighbors.
With these paintings, children of the vocation, defended by the active permanence of feelings, Katerina Alavedra-Duchoslav hits again as a person who paints for herself and for all of us. Good start to the season.
GLOBAL AND INCREASINGLY SENSE IN THE PAINTING OF KATERINA
by Josep M. Cadena
Katerina, born in Prague, studied commerce while still feeling the impulse towards plastic art, which came to her very young. In his country of origin he graduated in plastic arts in an important school and in 1982 he moved to live among us and continued his studies at the Municipal Art School of Sant Cugat del Vallès. Married, adopted the name of the husband and for that reason it is more known like Katerina Alavedra, although she takes care to add behind, with a discreet script, his original surname of Duchoslav. A whole series of changes for this Catalan-Czech-Swiss, who for their art have meant a remarkable cultural enrichment and plastic character, because an innate virtue in it and well visible in his work, is that he knows how to collect diversity of sensations that they come from outside and that transforms into a very personal pictorial projection.
The public presence of Katerina Alavedra-Duchoslav -Put the full name, but notice that I will return to Katerina's most familiar and simple one when she believes that it allows us to approach her work with more sensitivity- she started off on the right foot. That is to say, with two first prizes: the one obtained in 1997 in the eleventh Sanvisens Painting Contest in Sitges and in the eleventh Francisco Cabanas Alibau Rapid Painting Contest, held in 1998 in Sant Cugat. After that, other participations in competitions and various personal exhibitions took place, which were also well received by public juries. But I think I should pay special attention to her first two prizes, which made her stand out among a diversity of contestants as eager and triumphant as she, who, with her works, showed extensive creative abilities. They were hard confrontations and in which he participated with sincere will to know if everything he felt inside could be shared by others.
In fact, when he exhibited his work individually in 2002 in this same room, he titled the show with the phrase "Sentiment", to express that he did not have any kind of reservation before the public, largely unknown, since his will was to transmit what he I felt when I walked along the path of balanced beauty and the well-structured feelings that have always produced an intense joy when expressed in their works. Tant Ramon Sanvisens Marfull as Miquel Cabanas Alibau -barcelonins both for the facts of birth, but with ample stylistic curiosities that always looked for intense and new effects to the natural light-they were vocationally painters. Sanvisens, turned towards the Mediterranean and with an entrepreneurial spirit, did his wide and stimulating work with a good marriage with active teaching, while Cabanas Alibau, more withdrawn and permanent resident in Sant Cugat, worked in the middle of a modest silence that he considered necessary to obtain the constant progress in his very personal work. Of the two and what they represented in personal progress, Katerina would participate, reflective in the construction of the works, as well as in the selection of colors, but at the same time lover of experimentation in the original approach that gives his works and in the plastic dynamic that they, serene and well established, have in their dynamic life.
Katerina is a painter open to the world and changes. I dare to say that it is global, without for that reason being allowed to continue for what comes to it again, but it knows how to give it the aesthetic place that corresponds to it. Look forward, but always remember what we have behind us and move towards progress. A progress that, in the case of his painting, is evident and does not stop.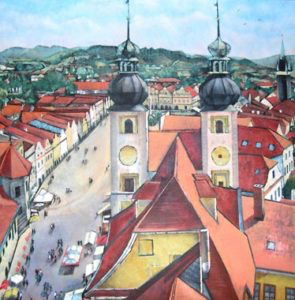 KATERINA ALAVEDRA-DUCHOSLAV
"RETURN TO DREAM PLACES"