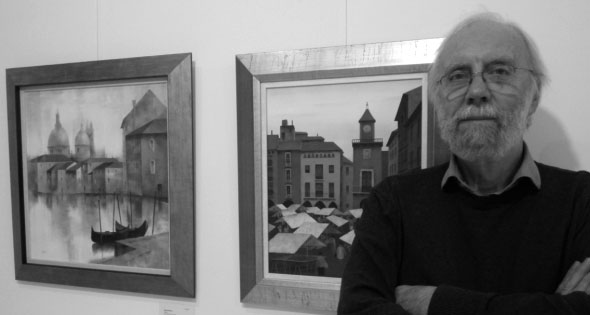 Posing the work with intellectual rigor is one of the keys that help to understand a painting like his that is surrounded by silence, poetry and almost mystery.
The architecture of its buildings is evident both in the urban landscapes of Paris, Amsterdam and those that recently dedicated to New York, as in the still lifes or in fishing ports.
BIOGRAPHY
Born in Barcelona in 1945, he studied painting in Barcelona and Paris. In 1972 he held his first solo exhibition and, since then, we find his works in the main national and international galleries, especially in Europe and the United States. He has won several prizes, among which we can highlight the Bronze Medal in Sitges, 1976, the Silver Medal in Evian, 1983 or the First Prize in Aix-en-Provence, 1984. In 1981 he was selected to be part of the Tribute to Picasso organized in Barcelona. He has appeared in numerous criticisms such as the one made by Fernando Gutiérrez in La Vanguardia or the critic Rafael Manzano.
Eduard Malvehy is one of the current painters who has managed to build his own pictorial geometry. The architecture of its buildings is evident both in the urban landscapes of Paris, Amsterdam and those recently dedicated to New York, such as still lifes or fishing ports. Posing the work with intellectual rigor, perhaps, is one of the keys that help to understand a painting like his that is surrounded by silence, poetry and almost mystery, and where the linearity of forms does not take center stage in light.
EDUARD MALVEHY
by Francesc Galí
To approach the plastic work with intellectual rigor may be one of the keys that help to understand and enjoy a painting, such as the one by Eduard Malvehy, which gives image to a reality -all of them are valid- surrounded by silence, poetry and almost mystery.
Urban themes, landscapes and seascapes are those that, together with still lifes, he usually represents within a singular structuring in which the composition, the plane and the volumes, take on a creative interpretation without figurative objectivity losing meaning as representation. Motifs that he develops through an orderly configuration within architectural limits -present through drawing and stain- that accept the coloration of light, an important basis of his representational work.
Transferring the reality of the model to the reality of his painting, which, in addition to being carried out -installing it- through a well-established drawing, he does it by adding a descriptive coloration free of semblance, the result of a palette toned within a scale of tones that grows and decreases naturally, without abruptness, in expression of the silence with which he accompanies that which can be contemplated as a dreamed reality.
A very personal composition is the one he puts into play in his works: verticality and the achievement of the sensation of volume are given formal appointment in his realization. Linearity and body of the forms that the light, also in a natural way, places consequently to the protagonism of its configuration. This is one of the ways that Eduard Malvehy uses to leave -without chromatic noises but solidly constructed- some unequivocal samples of the subjectivity and sensibility with which his painting is made.
THE PICTORICAL BALANCE OF EDUARD MALVEHY
by Josep M. Cadena
The painting of Eduard Malvehy, especially dedicated to the shaping of the landscape, despite being very varied in terms of the capture of places and environmental moments, has some common structural characteristics that place it in a philosophical conception that helps us to solve a pleasantly Cartesian way the contradictions that usually present the existence, because each painting of this painter, represent Cadaqués or Portofino, New York or Amsterdam, some geographical coordinates that we usually know by proximity or of which we have only heard people speak as the author They have the passion of travel as the motor of new sensations, they give us pleasantly comprehensible sensations and they provide us with assurances.
For years I have known Malvehy's painting and I have always valued his sense of balance very positively, with colors and shapes that are true lessons of logic within the present and that reassure us for the future. With his work, he acts as a sanity computer of the territory and of human society, and organizes urban settlements where it is possible to grow by working in common and where there are spaces for leisure and individual rest.
Clean and polished, Malvehy's pictorial creation leaves nothing to chance, but clearly establishes everything he wants to tell of realities seen that he transforms into concepts of beauty that always go beyond what they externally describe. Because, placed in front of your paintings, you never have to stay in an easy spatial and temporal location. We must go deeper into his pictorial mathematics and give the correct solution to the equation of life that he poses to us. Because Malvehy, although it does not seem like it, always presents us with unknowns to solve. And to decipher them you just have to have awake the senses of sensitivity and good taste, and possess a balanced will to believe more in the trial than in the outburst, to thus look as much as possible to the artist and enjoy better the understanding of his work.
BALANCE AND ORDER IN THE PAINTING OF EDUARD MALVEHY
by Josep M. Cadena
In these times of confusion and when a new year begins, I believe that the pictorial work of Eduard Malvehy helps us to find the necessary serenity and, even, the indispensable will to overcome that we need to go beyond the challenges that surround us. He has been maintaining his equilibrium posture for years, both in the construction of the forms and in the color with which they are given body, thus achieving an excellent support so that our thinking is strengthened and has a sure way to progress.
In Malvehy's work it is possible to find positive references about what we have seen in different trips, together with what we have learned in various readings about the world around us. With this I want to say that it is a realistic and at the same time cultured painting, made on experiences related to the places that the artist visits and esteems and daughters, in the last instance, of the thought that he has built on them to give us original reasons for reflection. Innovates from what we collectively know because it is the result of generations that have been decanting their knowledge, according to the practical needs that were had, but also establishes new and positive environments.
Eduard Malvehy is personal, without any effort to be. Always act naturally and paint in a calm manner. There is real effort in what it does, as it is logical and even necessary, but it is expressed with the serenity of the water that passes through a stream, far from the springing of the source that broke the stone to be born and of which it has a clear Awareness of proceeding. Get in your painting things pass with order, without tensions that break for one band or another. It serves the whole and becomes an interpreter because it knows its transcendence of the future. That is why, although he remembers the past and always acts on the present in which he lives, he looks to the future that is to come.
Thus, when as a painter he focuses on ceramics and establishes his own compositions, they are never dead natures, but with the diversity of forms he gathers to construct each painting, they live and bring us closer to a society that, made with very different elements , knows how to organize in order to become better.
THE PLURAL AND GLOBAL LANDSCAPES OF EDUARD MALVEHY
by Josep M. Cadena
I think that those sancugatencs who usually visit the exhibitions offered by the Rusiñol Gallery will celebrate the return of the artist Eduard Malvehy to his work. Now three years ago this remarkable painter did not exhibit his paintings in the gallery, and his followers want to appreciate the evolution of this creative, a great observer of reality, highlights in European urban landscapes and the composition of still lifes, which deals with a precision of stroke and a luminous balance that gives them an atmosphere that distills a harmony that comes from the sensation experienced by the observer of the canvas to be integrated into the scene that is the object of his attention.
Eduard Malvehy (Barcelona, ​​1945), trained pictorially in Barcelona and Paris, has exhibited since 1972. He does it regularly in many parts of Spain, the rest of Europe and the United States. For a few years now he has been living in Zaragoza, and I think he takes advantage of the tranquility he has built around him to go deep in a highly colored work, perfectly structured in his internal architecture, which, while remaining faithful to the personal language he has created, transmits useful ones lessons of civility. His painting is often descriptive, and expresses a will to unite between places and people called to reach goals of constant progress. Within the diversity of populations of Europe and the United States that represents their cadres, there are always stimulating projections towards a future of common participation. And the same happens with the still lifes of ceramics and glass, in which the formal beauties of the bottles, glasses, bowls and plates, beyond the most distinctive characteristics of each element, act together and articulate a set of great esthetic.
In my opinion, Malvehy has found the path with which he best identifies himself and knows how to follow him with artistic freedom and desire for service to society. Believe what he says and express it with the right words, both in the colors and in the forms. And it has the virtue of making us feel part of a common and global will through its painting.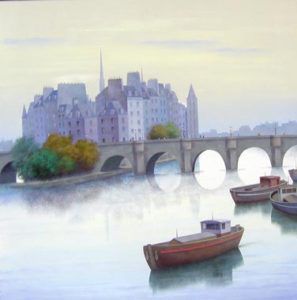 MALVEHY
 "THE CITIES I LOVE"