BARCELONA, 1947 Montserrat Masdeu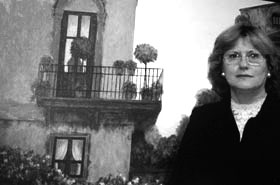 Her flowers are not compositions that remain in the aspects of formal beauty, as with her urban and landscape paintings right to raise diversity of issues.
She has a great receptive capacity for everything related to light, and in its theme of greenhouses, where plants and flowers are the main protagonists, it achieves overall visions of extraordinary value.
BIOGRAPHY
Montserrat Madeu studied at the Baixas Academy, at the Massana School and at the Llotja in Barcelona. She was a disciple of the painter Murcia Valcárcel. For a few years she founded and directed the school of drawing and painting School of Art Sarrià in Barcelona. In 1974 she made his first solo exhibition; since then her canvases have been seen in the most prestigious art galleries of our country. She has also crossed borders in a way that has exhibited internationally in California, London, Buenos Aires, New York, Miami, Philadelphia … She has permanent works in museums in Europe, the United States, Japan, Central and South America and in the Municipal Gallery Legacy Francesc Galí de Palamós. Among the publications that have been dedicated to her we can highlight the book Montserrat Masdeu by Rafael Manzano or the volumes of the Q2 collection edited by the Rusiñol Gallery, among others.
THE FLORAL STIMULES OF MONTSERRAT MASDEU
by Josep M. Cadena
The work of Montserrat Masdeu is essentially floral. Several times I have seen it and I have followed it with intimate complacency since the late eighties and during the nineties to the now defunct Barcelona gallery Kreisler and in January 2006 to this same santugatenca Sala Rusiñol. That's why I think I have some capacity to declare that the flowers of this painter are not compositions that remain in the formal aspects of the beauty of the forms, but intuitively come to show us that everyone in our soul interiors can be like nurseries in those that germinate and grow the most positive wills of perfection towards ourselves and towards others.
He knows how to describe other situations and in Montserrat Masdeu, a person and a painter at the same time, he is interested in the diversity of questions that he is able to pose in his urban and landscape paintings. But where I see her personally the most dedicated is in her descriptions of flower stalls and nurseries where they grow to meet the needs of a society that, commodified as it is, needs them to reconnect with the spirituality that is the only door that, opened wide, should give way to a better future.
Although we should be otherwise, the critical situation in which our society has been falling, increasingly anguished by the material problems that affect it, makes the number of people grow (there were always, but now there are more) who are like houses with stone facades and closed and uniform windows, living inward, according to their own interests and without thinking about caring for others and, especially, without wanting to find a joint salvation based on the stimulation of the collective spirit. I firmly believe that the solution or the safest path towards it is found in it. And in its origin and in the places of rest that must necessarily exist in its various stages, are found, both for the eyes to be pleased with their colors and for the spirit to have desire to continue, the floral explanations of Montserrat Masdeu.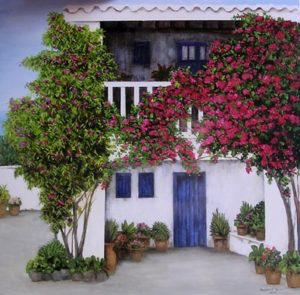 M. MASDEU
"TRIP TO THE ISLANDS"