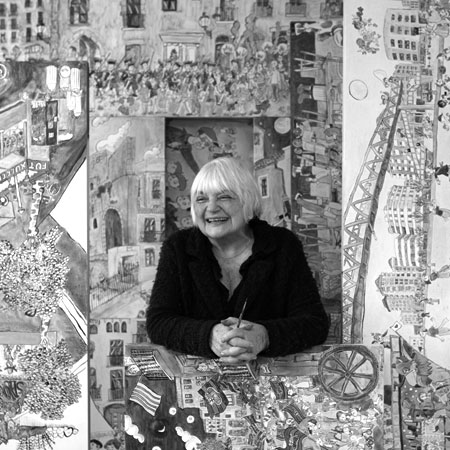 His commitment to the roots of Catalonia, his religious principles and appreciation for children are reflected in his personal work.
With his drawings he was able to summarize the historical and social circumstances that he has lived.
TWENTIETH ANNIVERSARY OF THE Sala Rusiñol CELEBRATED WITH THE JOY OF THE WORK OF PILARÍN BAYÉS
by Josep M. Cadena
The Rusiñol Gallery reaches twenty-seven years of existence, and does so with an exhibition of drawings by Pilarín Bayés, which also presents a book on his extensive work. It is a triple celebration, carried out with joy, with a desire to participate and with the desire to continue serving our society. In a time like today, where there is no shortage of problems, the existence of people who join forces with a will to progress is essential, and this commendable task is the one carried out by Ignacio and Victoria Cabanas -promotors and animators of the gallery. , well established in Sant Cugat and recognized throughout Catalonia-, Pilarín Bayés -smallly ardent and generous (you can not forget the sausages that he gives so profusely as proof of Catalan friendship), always with the drawing pencil in his hand- and the Editorial Norma – who has taken care of the book that is presented, entitled Con sombrero … or sin, and that believes in comics as a stimulus for society to improve itself.
Pilarín Bayés, protagonist of the exhibition and of the book, esteem the hats. He has many and never stops bringing new ones. She has the grace to know how to choose and show off, making them their own with the friendly personality found in everything she does and, as is natural, in the drawings she makes with no apparent effort, but with an exact sense of what the actuality of the Life needs art. That is why we have to celebrate the double event of the first exhibition of the artist among us -all an honor for the Rusiñol Gallery- and the presentation of the book.
With a hat … or without it is a biography and an analysis full of interest in the work of the artist in charge of María Ángeles Ferrer, who knows how to contextualize some events consigned with fidelity. At the same time, the journalist and art critic Jaume Vidal is careful to clarify the whys of Pilarín Bayés, a simple and smiling woman before the whole world, but with a rich background in experiences and thoughts. So we know that Pilarín, born in Vic in 1941, is a strong woman, who understands the complexities of life and has a deep knowledge of her trade, as the saying goes, in the interesting prologue that puts the work, that A cartoonist is not an exotic plant that blooms inside a glass bell, it is not a spontaneous genius. She knows that her personality is also the result of a complicated series of historical and social circumstances, which she managed to summarize, in her drawings, in a vision of our country full of teachings.
Socially committed to the roots of Catalonia, very deep and from which periodically emerges splendid flowers, despite the adverse weather that too often threatens us all, Pilarín Bayés also believes, in a firm and natural way, in the religious principles. And it is also estimated that children and people of good faith. All this is reflected in his work, I invite you to see with the same love that she has done.