BARCELONA, 1954 Víctor Pedra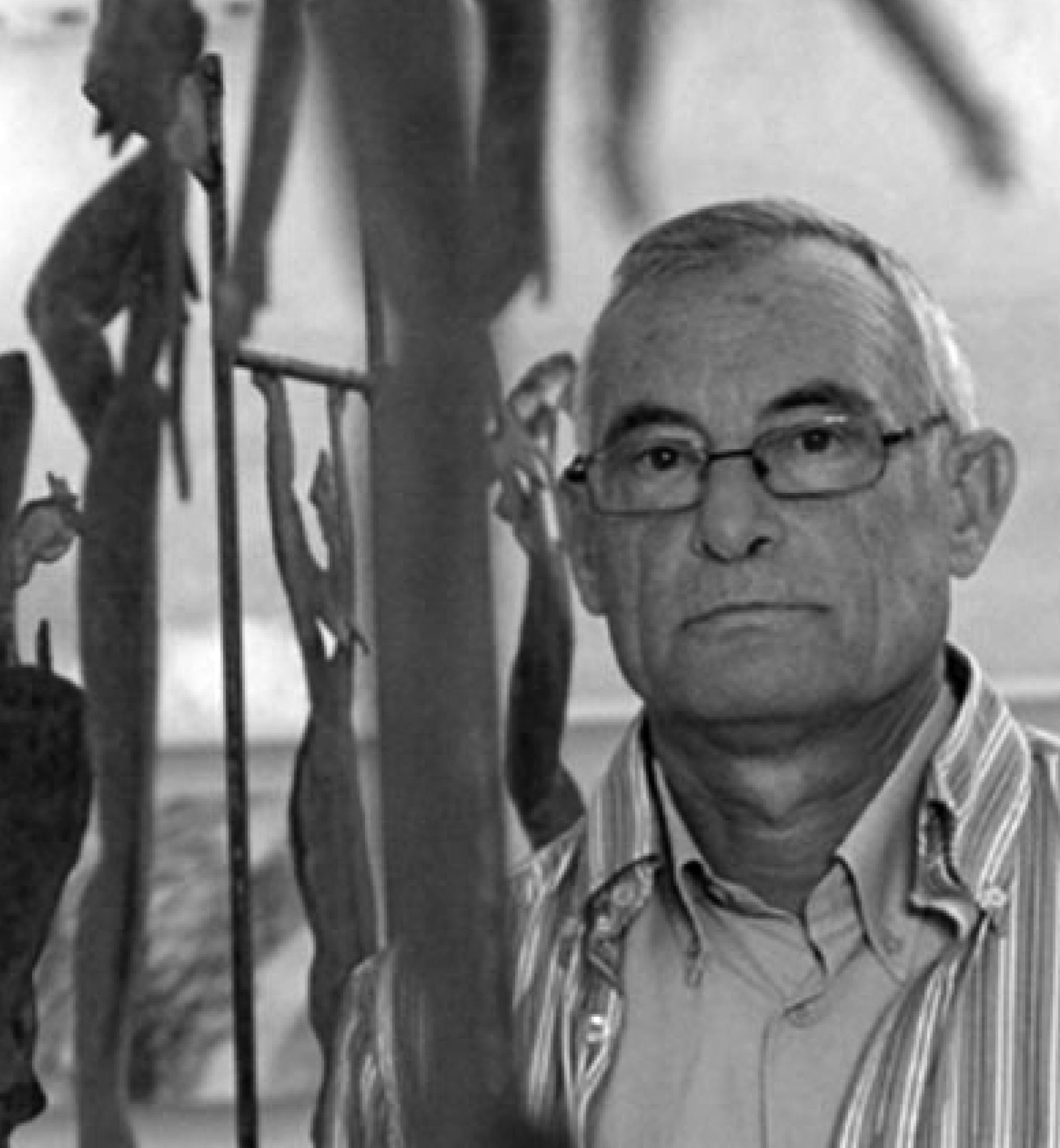 Claims a paradís that no gaudim because of the nostres pròpies incapacitats.
The pictorial universe of Victor Pedra is oneiric and deeply symbolic.
THE PARADISE OF VICTOR PEDRA
by Josep M. Cadena
The Rusiñol Gallery of Sant Cugat has chosen the painter and sculptor Victor Pedra (Barcelona, ​​1955) to inaugurate the year 2017, a sentimental artist as well as an ironic one that correctly identifies the world in which we live as a great circus arena where all of us are forced to perform difficult juggling exercises. Under the marquee of wide bands of color crowned with banners, you have to make an effort to go up from ladder to ladder in search of the top, it is necessary that none of the bowling pins that we keep moving to the air fall, because it would cause a rumble, and over everything, we are walking on a tightrope or on top of a unicycle, it is essential that we do not lose a balance that is not always easy to keep.
Stone women have Cubist airs, strong curves and triangular breasts. They often occupy a large part of the canvas and appear gigantic with respect to other elements represented, and it is normal that this is so because the transcendent imposes its presence. They are feminine figures that in their hieratic and elegant simplicity remind us of the daughters of the kings of the happy Arcadia, in ancient Greece, those who kept the cattle and who, innocent in their nudity, captivated the gods and the Impel · l to leave the Olympus so, transfigured in men or animals, try to seduce them.
The pictorial universe of Victor Piedra is oneiric and deeply symbolic. He claims a paradise that we do not enjoy due to our own disabilities, perhaps because we have not yet managed to get the Picasso horse to stop neighing against the horrors of war and simply to run and knead in freedom. The artist associates that other world that we should not renounce with Nature. The sun provides the best heat after human caresses, the palm trees give us their shade, the rain quenches our thirst and the pears and cherries offer us their sweetness. At the same time, rivers and seas invite us to travel; although, if we know how to use the imagination, we will not need to move and a paper boat will be enough to go everywhere.
We premiered 2017, and I find it very appropriate for the Chamber to celebrate it with an exhibition by Víctor Pedra, since this author, in his excellent artistic category, unites the demand for a better society. Hopefully this year we get a little closer!