SABADELL, 1974 Enric Aguilar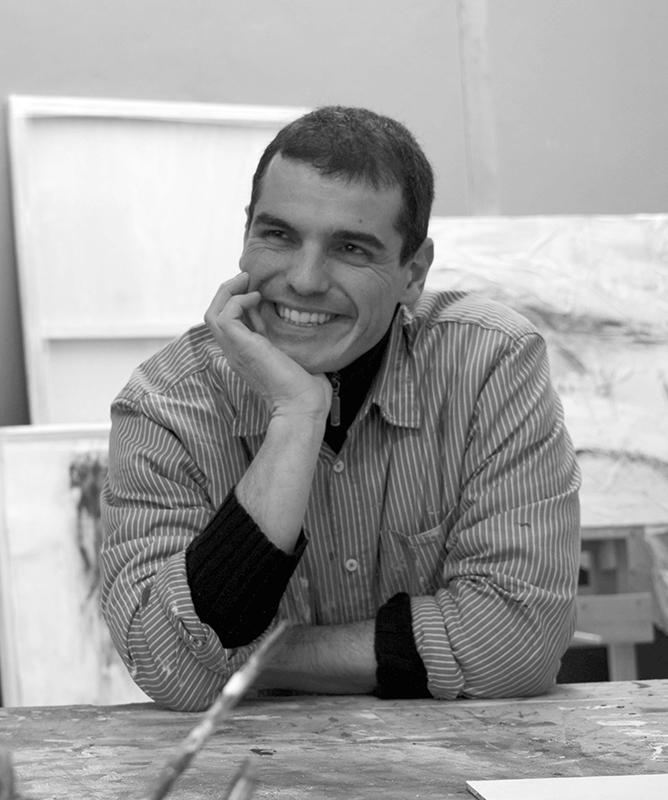 The contemplation of the sea has allowed him to realize, although he already sensed it, that the immensity of the waters are a reflection of life itself.
His work is the result of his reflection and contemplation of the sea and the marine themes. A reflection kneaded in reality and in the life of the everyday, from the life of those around him.
THE BAPTISM OF FAITH
by Enric Aguilar
The acceptance and recognition of everything lived, whether or not it is pleasant, opens the doors of human and personal knowledge, where it offers us the opportunity that all people have to conform to what it is, or decide to change our internal perception and external facts to a better and more pleasant aspect of the more evolved life.
The more knowledge that one acquires of human thought, discover how it works and, according to the beliefs of each person, you reach the final conclusion of certainty where one must acquire the capacity and the habit of abandonment with fullness. essence of the soul and let it show you and indicate the way to know how to give light, peace, love and vitality in pictorial work. Thus, it becomes the sense of service to people, where it fills their hearts and spirits, constantly enjoying the work and the emotions experienced at all times, transcending all space and time.
This is why the title of the exhibition: "The baptism of faith", because with faith one unfolds the wings that allow one to live humbly true freedom and life to the full.
In these moments that we are living, only the words of San Francisco de Assis come to mind. (1181-1226 AD)
Lord, make me an instrument of your peace.
Where there is offense, may I forgive.
Where there is discord, let me put union.
Where there is doubt, let me put FAITH.
Where there is error, let me put truth.
Where there is despair, let me put hope.
Where there is sadness, may I bring joy.
Where there is darkness, let me put light.
Oh Lord, make me not so much seek to be a consulate, as to console.
To be understood how to understand.
Being loved, how to love.
Because it is by giving that one receives, by forgiving that one has been forgiven,
Dying that is resurrected in life. 
THE ENRIC AGUILAR PICTORIAL DEPTH
by Josep M. Cadena
Personally in love with the sea and the boats that serve him either for fishing or with sports motivations, Enrique Aguilar (Sabadell, 1974) has made maritime themes the most important of his pictorial activity. First trained in the Vallesana School of Arts and Crafts, and then graduated from the School of Fine Arts, he currently resides in Castellar del Vallès, but his summer stays in Menorca help him to enter his seafaring vocation and find on the coast – also the Catalan one, especially the Gironina- motives for painting scenes of calm and action, with which the sensitivity of all of us, children of Mediterranean populations, connects effectively.
Both a pair of boats located at rest and at the edge of the water on the beach of Canadell, as a boy taking the first baths of April in Palamós, are, like many other episodes of sailors that the artist presents us, demonstrations that remind us circumstances that many of us have witnessed or even starred. And this is precisely what allows us to say that Enrique Aguilar knows how to give his art a vital transcendence in a few moments that, despite having been lived, perhaps we had not been able to properly assess until now that we see them caught and exalted artistically. And it is that the painting, when it is really felt as a means of absolute communication of feelings, and at the same time has gifted artisans for this art, as is the present case, considerably broadens the depth and breadth of our perception.
It is necessary to follow with attention this exhibition by Enrique Aguilar, since his paintings, thematically related to what is common to us by proximity to the sea, always go beyond what they superficially explain and are steeped in deep reflection. This is evidenced especially in two works titled I judge and I forgive, carried out by a hand, which represent, respectively, the obligation to judge the facts and people according to the strictest reason and the need to act with generosity. The painter follows these premises and, contemplating his work, encourages us to follow the pictorial example he gives us.