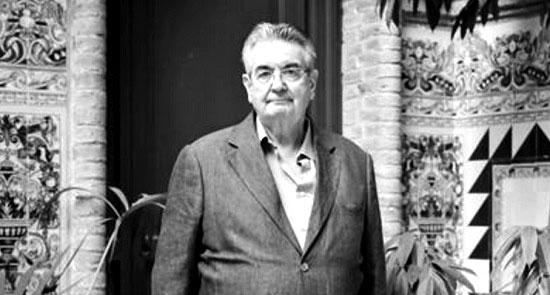 The outline of the pictorial composition expresses strength, vitality and solidity both in terms of the treatment of the themes and the contrasts that it harmonizes in the set of each of his oils.
Her passion for easel painting has led her to look for environments in which the villas, fields and seas have made her capture the themes with vibrant life.
BIOGRAPHY
He was born in Barcelona in 1941. His paternal grandfather, painter and musician, Carlos Forcada Sors, ​​introduced him to the art world when he was a boy.
In Vic (Barcelona), during his youth he started with respect to academic drawing, and in painting with artists such as Salvador Puntí and Fidel Bofill. He joined the group of vigatans painters who cultivated a post-impressionism in which Mediterranean light and color predominated, as well as the transparency of the atmosphere.
The outline of the pictorial composition expresses strength, vitality and solidity both in terms of the treatment of the themes and the contrasts that it harmonizes in the set of each of its oils. His painting is reminiscent of the painters Mir, Casas, Meifren or Rusiñol.
Her passion for cavalet painting has led her to look for environments in which the life of villas, fields, seas has made them reflect the themes with vibrant life as in the case of the Mediterranean coast: Cadaqués, Arenys de Mar, Sitges and of course the islands of Mallorca, Menorca and Ibiza. He has made extensive collections of paintings in Greece, especially on the island of Santorini.
In Venice, he has captured the sensitivity of the atmosphere of the small canals where the red and ocher colored houses are reflected. He has painted many small villas on the Italian coast. In Morocco, it has entered into the cooking of popular markets. He has also painted the lands of Castile and its villages as well as Andalusia. He has made stays in Paris, Rome, Oslo, Stockholm, Colombia, Chile, Venezuela, Mexico, the Dominican Republic or the United States, where he traveled from North to South to paint the twenty-two missions founded by Fray Junípero Serra and others.
It must be remembered that in the year 2000 he made a retrospective exhibition of his work in the Diocesan Museum of the Pia Almoina in Barcelona, ​​where he presented some two hundred and fifty works including oils, watercolors, engravings, lithographs and drawings in pen and pencil.
He has made several oil murals: in Bogotá (Colombia), in the church of San Cayetano, 1.8m. of height for 12m. long; in Santa Coloma de Queralt (Tarragona), in the parish church, the Pentecost work, a 3m canvas. x 5m .; and in Taichung (Taiwan) an oil painting on golden canvas of 9m. x 9m in the church of Fatima.
SIMPLICITY AND TRANSCENDENCE IN THE PAINTING OF JOSEP M. FORCADA
by Josep M. Cadena
Priest, doctor of medicine and graduate in communication sciences, Josep M. Forcada is also a painter, and his work expresses what I consider essential of his artistic personality: love of neighbor through the landscape. The plastic author has traveled to many countries and has managed to get his brushes captured many and varied natural beauty, but is very close to us, in Catalan-speaking lands, where he has better captured the virtues that transcend nature and are lessons for Accurately shape our ways of being.
Humanist as it is, Forcada reveals, through a painting of post-impressionist character, his thoughts as a person who not only wants to share his feelings with others, but also wishes to be a more conducive thread to the elevation of the spirit. The trajectory of each one is finite in its materiality, but that does not mean that the responsibility for our footprint among men disappears. Even those who do not believe in the afterlife are aware of the historical continuity that from the beginning links us to our society and requires us to act with those who will judge us in the end.
Immersed in the pictures of Forcada, it is easy to convince oneself that the meaning of existence is to put one's life at the service of others, in accordance with the will of a higher entity, but it is not even necessary to believe in the immortality of the soul to appreciate the obvious pictorial values ​​of the artist's works.
The painting of Josep M. Forcada makes pleasant everything he sees with the will to share, but not because the creator obviates the difficulties that reality presents, but because he has found a way to tell us that these can be overcome when we believe in a better and enduring final destiny. A destination that is like a calm sea that takes us towards the horizon line that seems to announce that everything is over but that, when we have it very close, we realize that all this has only started.
SPIRITUAL SENSE IN THE PAINTING OF JOSEP M. FORCADA
by Josep M. Cadena
Josep M. Forcada is a painter who knows how to approach the landscape that surrounds us in a cordial and widely participatory manner. He feels like his, but at the same time he shares it with all of us. Situate, for example, before one of its representations of the Costa Brava -some of those in which the reddish earth lowers towards the blue of the sea and some inclined pines, that seem to look for the kiss of the water, put in the foreground the constant youth of what is always renewed in the greens of spring – it is a highly rewarding exercise for those who, like him, believe that figuration is always a representation of a spirit in motion.
Doctor in medicine and a degree in communication sciences in the civil aspect, Josep M. Forcada has as main north a mission as a pastor of souls who knows how to combine with his creative activity with regard to intense plastic activity. Grandson of painter and follower, in his early days, of several creatives, he soon learned to find himself and to follow a line of overcoming himself and in relation to others. To paint is, for him, to feel like Nature and human beings respond, albeit in very different ways, to the same will of harmonies that, originally, come from a Creator and that we have to develop with simplicity and, also, gladly.
I think that, after looking at Forcada's painting, we can all agree that his paintings encourage us to be better. We feel comfortable with them for what they always have positive, affirming Franciscan Song to the Sun that warms our hearts and illuminates our minds to be able to ascend through the light that brings us back to the goodness of the origins.
The painter is warm and sober at the same time. He is enthusiastic about what surrounds us, but he knows how to organize himself to grasp the precise things that lead to a vision that always wants to be transcendent. It manages to transmit what it wants and always goes beyond what the outside represents. Possibly he could throw himself into a rich and personal abstraction, but figuration serves to give us testimony of what we should always aspire to be.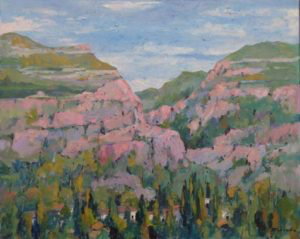 JOSEP M. FORCADA
"IMPRESSIONS AND LIGHTS"