BARCELONA, 1969 Jordi Isern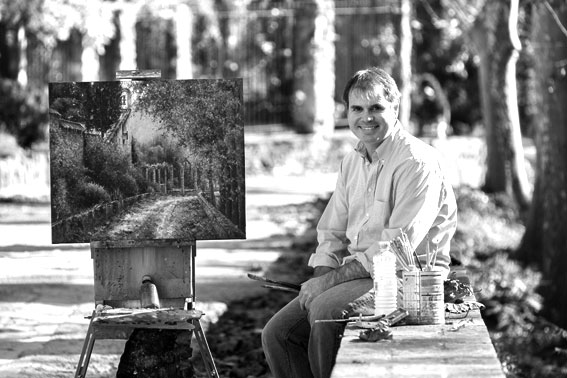 It captures the importance of each moment, unique and valuable, and brings us, through the instrument of art, the notion of beauty, made of balance, harmony and peace.
Scenes of mountain landscapes, forests and lakes synthesize the aesthetic taste of this painter who works a palette where the range of greens, blues and yellows predominates.
BIOGRAPHY
Self-taught, he made his first solo exhibition in 1992. About ten years ago, he made the decision to leave the city (Barcelona) and seek peace and tranquility in the countryside, in open spaces. I needed it. He was an "urbanitas" and he carried nature inside. He was destined in the business world, which was his natural world, but rebelled against this possibility and surrendered to Arte fully. For this reason, Jordi Isern's work demonstrates his particular plastic dialogue with nature.
Scenes of mountain landscapes, forests and lakes synthesize the aesthetic taste of this painter who works a palette dominated by the range of greens, blues and yellows. Full-painter painter, seeks to capture the light and atmosphere that exists at a specific time and precise. The critic considers him an artist of creative, vital and audacious restlessness. His brushstroke is precise and creative, poetic feeling and sensitive soul. The constant work, the analysis of his own work, self-demand and the study of the great masters, is the way he goes to achieve his goal. We find his works in collections from Spain, Venezuela, Japan, E.E.U.U, Scotland, Mexico, Belgium and Peru.
THE EMOTIVE AND REFLECTIVE LANDSCAPES OF JORDI ISERN
by Josep M. Cadena
Immediately after a large exhibition in the museum of his hometown, Jordi Isern (Alcover, 1969) offers us this. I think it is an honor for the Rusiñol Gallery in Sant Cugat del Vallés, which is so well-known by Ignacio and Victoria Cabanas, as well as a good opportunity for the people of Sant Cugat who have been following the work of this artist for years. and invite reflection.
In the catalog of this exhibition, together with an extensive photographic testimony of his paintings, based on the changes experienced by Nature throughout the four seasons of the year, Jordi Isern himself signs an article, entitled Do not forget the way, in which he points out how he has painted places where, often, due to the everyday routine, we do not stop to reflect on his beauty and everything they try to convey to us. And he has done it, as he continues to say, so that it is for whatever reason, they have moved me, and I have had the need to express it on the web.
With these words, direct and sincere, he has consigned some intimate truths, from which he comes and which continue to be his guideline of behavior. Because as we can see in his paintings, the author is faithful to the places he knows and loves, those who know how to extract aesthetic emotions that reach the whole world, as evidenced by the fact that he ends up just arriving from an exhibition held in the Japanese city of Tokyo. Jordi Isern does not want to change allegiances, he has roots that he drinks to give us all the sap of his testimony drenched with love for the country. But he, as an authentic artist, does not make localism, but universalism, because based on the references and coordinates that best dominates, appeals to feelings that are typical of all human beings.
Spring explosion after autumn rains and winter snows, poppies that dot the fields of wheat waiting for harvest, bushes that from the top of cliffs contemplate the sea at their feet, villages and farmhouses that coexist with mountains, forests and the meadows that surround them … All this, after all, a portrait of where we come from and who we are, and an invitation to think about where we want to go.