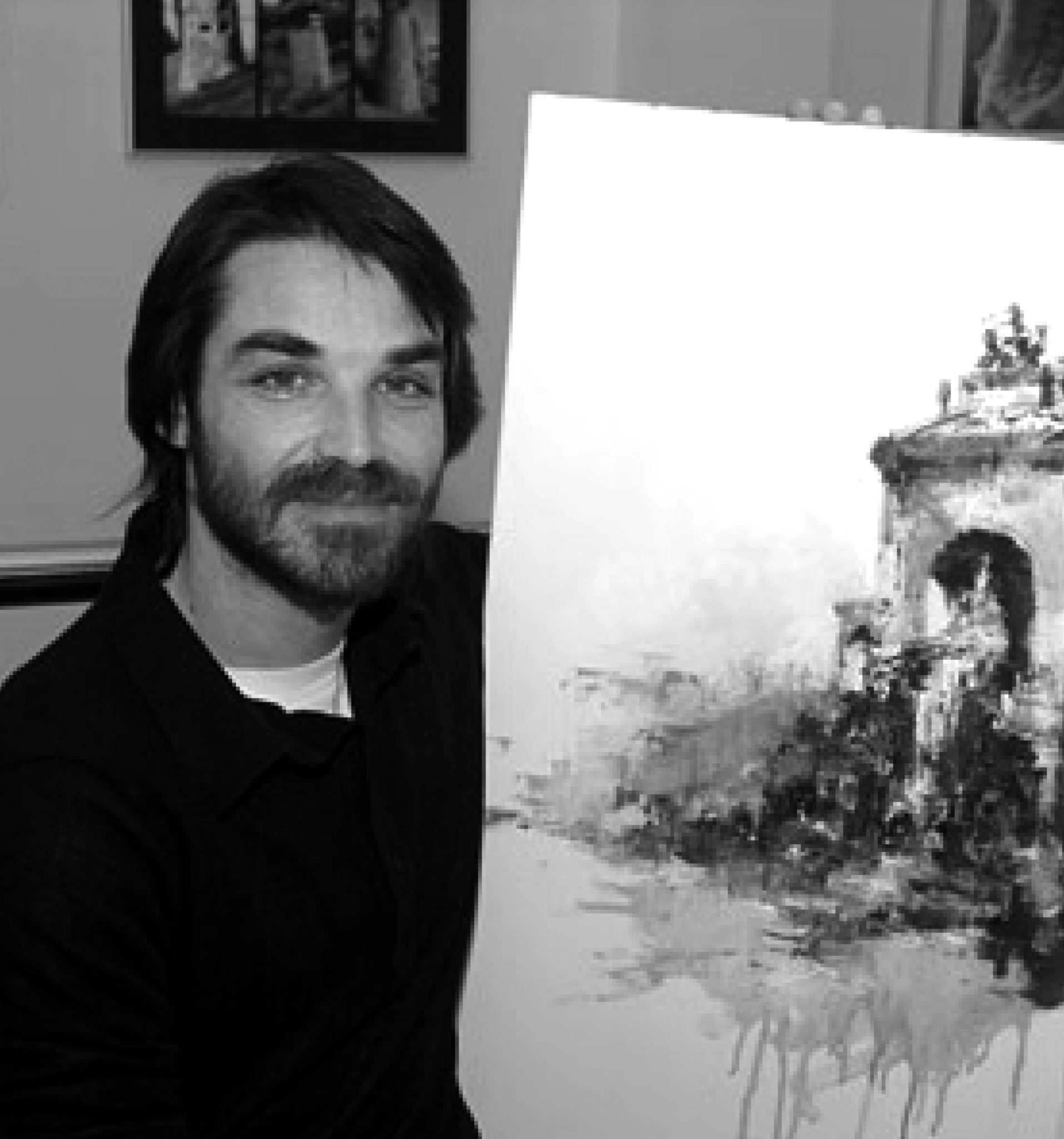 It transmits to us the essence and the soul of the cities that it paints, ordering in the best way the thought, the form and the color.
Jordi Jubany busca oferir una obra natural, relacionada amb la vida.
TEACHING AND GOOD COMPANY IN THE WORK OF JORDI JUBANY
by Josep M. Cadena
Young painter with constructive and colorful push, Jordi Jubany (Mataró, 1970) is an emerging value in the new Catalan figurative art. As a child, he received (1978) the first notions of artistic drawing by Albert Alís; later (1985-1987) he studied at the School of Visual Arts of Vilassar de Mar and again (1990-1994) he returned to be under the guidance of Alís to enter profitably into the intense exercise of oil painting.
It was with this teacher, who had trained with professors such as Pablo Mañé and Raúl Capitani -preferably oil and engraving-, as well as with José Martínez Lozano – a great watercolorist and also an excellent painter – when he begins to show his creative skills. Later (1999) he followed a sculpture course at the Escuela Massana and came into contact with stone, wood and iron, insisting with a volumetric capacity that he already had of origin. And then came the participation in several contests, in which he was always selected, as well as won prizes. And then came the personal exhibitions: two in Mataró and one very recent in Girona. We also find a dozen of his works in the artistic fund of the Caixa Laietana entity.
Little, but significant, because artistically he is young. And what matters most: he moves forward with a sure step and paints consciously, sure that with the representation of the things he sees, he comes to express a true feeling of humanity. Now he has expanded his radius of action and we have it in Sant Cugat, in the Rusiñol Gallery. This, which celebrates its twenty-five years of life-a quarter of a century, if we count in a more solemn way-bets for it and, at the same time, renews its disclosing action with judicious pause in favor of art. It makes a call that takes us to the future that, whatever it may be, it has to arrive and that it must find us with enough baggage – spiritual and moral, but also artistic – to be able to assimilate the changes. These will be more spirit than environment and we will need to have a clear awareness of what we are so that the winds, perhaps crazy, of the beneficial rinse that is prepared never take away the essences of the fundamental. And this will be achieved by those who prefer art and we feel it as an example of a righteous life with works that come from before and with others, which are now, like this Jordi Jubany that now accompanies us. Let's observe carefully and we will see that they teach us and make us good company.