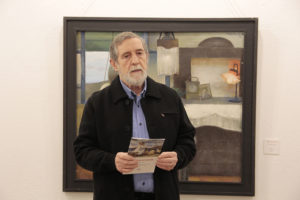 As every year, and coinciding with the Christmas season, we like to present a special exhibition. On this occasion we pay tribute to an artist very dear to us, Ramon Aguilar Moré, who left us in 2015. Aguilar Moré was an artist closely linked to the Sala Rusiñol, where he presented his last exhibition in life (December 2014) with which we celebrated his 90th anniversary. On this occasion the visitor will find an exhibition that brings together a selection of works from the artist's private collection.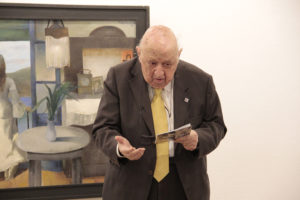 Josep M. Cadena: "Aguilar Moré, with her works, explains to us the reality of each moment. He also gives us a vision of our society. His paintings represent places where he had traveled, also jazz themes and the girls of the new society who had a freshness in their gaze. He was interested in ballet, he went to the shows of the Liceo, also to the jazz meetings at the Jazz Club of Barcelona, where he took notes from nature. His paintings reflect the sense of Catalan society, which is evident in the paintings we now have in this exhibition".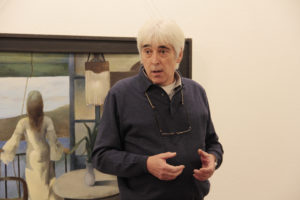 "The family environment, of important artistic tradition, marked my father", explains his middle son Àlex. "My great-grandfather was an important photographer, the first in Barcelona. My grandfather exhibited in the Sala Parés but finally decided on medicine. Two uncles also painted. My father started painting with ballet and jazz, then he diversified his subject matter. He was a figurative painter, but he was not a reproducer of reality, he filtered reality and there he reflected his emotions".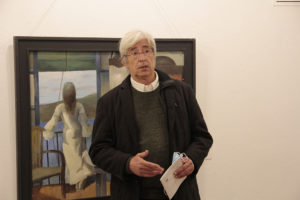 I would like to make an aside, the oldest son Marc intervenes, regarding my parents' relationship. "Both were a tandem. My mother lived to help my father in the world of painting. I would like to point out that an important art dealer, at a difficult time for them, offered to buy all the works I painted from that moment on, which they refused. It was always my mother who organized his exhibitions and he dedicated himself exclusively to painting".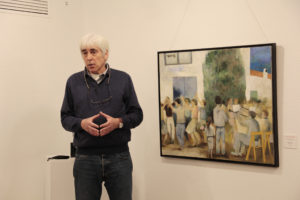 It's time for questions. "Were these big-eyed brunette girls inspired by anyone?" asks one of Instagram's followers. And Marc answers, "My father had models. There were always beautiful models at home. Some of them are my mother. The story behind the painting "Homage to Salvador Dalí (Port Lligat)" has also been interesting, since this work was selected to form part of a travelling exhibition that in 1993 travelled to Santiago de Chile, Buenos Aires, Toquio, New York, Melbourne and Atlanta.    
MORE PHOTOS