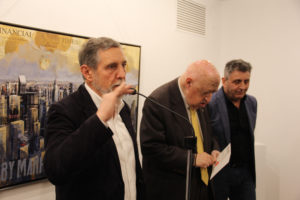 "Urbem viventium" (Towards the city of living beings) announces rightly the exhibition with which Juan Antonio TENORIO delights us again. Within the figurative style, he is a classic one of the urban landscapes! Cities with the straight lines of their buildings, the strength of the colors and the balanced use of the collage technique come together harmoniously in this wonderful work. It is the 5thtime that TENORIO exhibits at the Rusiñol Gallery.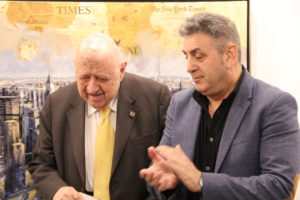 Mr. Josep M. Cadena, our art critic, usually glimpses human vitality, desires for progressing, social dimension… from the figurative representations exhibited in the Rusiñol Gallery, whether about Nature, whether about cities. This interpretation is evident in front of "Urbem viventium": «The city cannot be like a bee hive without bees; the activity of citizens gives meaning to the city».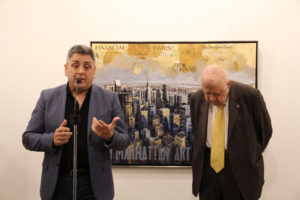 «Juan Antonio Tenorio is a global artist who travels constantly and transmits to us his visions and thoughts though the mastery of the brush and the strength of the color. His interest is the cities, where human life is buzzing. In the same way that there are painters fascinated by Nature, our author prefers the huge skyscrapers of cement and steel, and asphalt» (from the writings of Josep M. Cadena).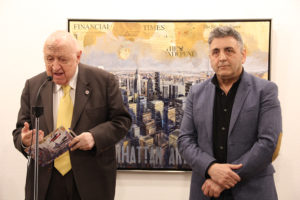 Mr. Cadena has joked with the name of this artist: "Tenorio". «This name remembers wildness, but he works!», he said. Someone among the attendees did not see it clearly and asked if "Tenorio" is his right name or a pseudonym. —«No, no, my name is Juan Antonio Tenorio and, in addition, in my city (Malaga) people know me precisely as "Juan Tenorio"».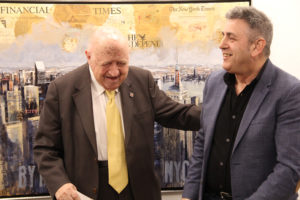 The artist Tenorio has been particularly happy for two reasons. On the one hand, for exhibiting at the Rusiñol Gallery —there are already 20 years— is like "playing at home", he said. Secondly, this feeling has been reinforced by the wide presence of his friends and relatives in this vernissage. «Today I would like to return to you all the time during which you have not seen me because I was focused on this work».

MORE PHOTOS