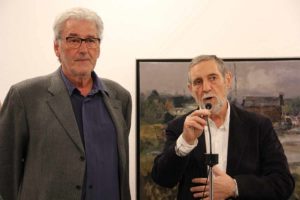 May is the month of the Sala Rusiñol's anniversary: in this current season we celebrate 33 years of exhibiting figurative painting. And we have the joy of celebrating this event with an exhibition entitled like this: "Cruañas, 50 years of painting". A double ephemeris!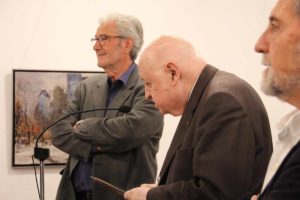 Mr. Josep M. Cadena has remarked this historic fact: «The owner of this Gallery has said that they have devoted 33 years to the figurative painting. But, at the same time, Cruañas fulfills "half a century"of painting… So, Cruañas was already painter —he was already exhibiting— when they created the Rusiñol Gallery in 1986. My first contact with Josep Cruañas was in 1985, at the Comas Gallery, in Barcelona» .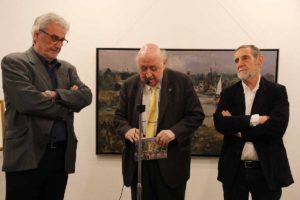 Our art critic has highlighted the creativity of this artist: «Concerning Cruañas, I have written about him on 17 occasions since 1985. It always seems to me that I start again (…). He is, in my opinion, a creative person who knows how to find himself and who always reveals new qualities in his topics. He searches until he connects with the mysterious tinkle of novelty in the environment that he has chosen».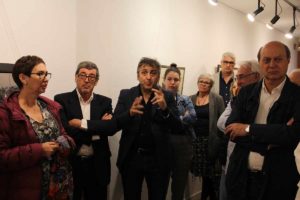 An endearing aspect of today: three painters —all of them well-known at the Rusiñol Gallery— had met during this inauguration. In addition of the artist who exhibited, there have been also present Benet Sarsanedas—an old-friend of Cruañas— and Juan Antonio Tenorio, who has put an "artist-question": —«When does the painter decide that his work is over?». The answer: —«When you sign it, although you think that you could have put more or have removed something. Anyway, it's over when you cannot take anything else!».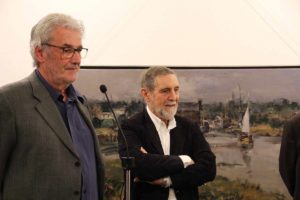 The biographical descriptions characterize Josep Cruañas as «an impressionist painter with some abstracts dyes, who transmits a special vaporiness within of very humid atmosphere». But, —«Where do the dark color and tonality of these paintings come from? The painter replied: —«On my palette I put white, yellow and orange, and I get these dark colors. It's my range!, my language!, and I can not give up on it».

MORE PHOTOS