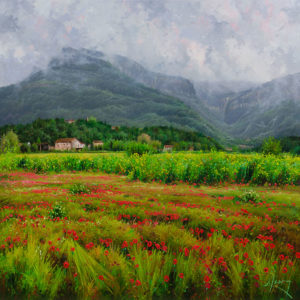 The protagonist of our next inauguration is Jordi Isern, with his particular pictorial dialogue with nature. The title of his exhibition: "When you stop".
This artist is deeply rooted in the Rusiñol Gallery. He captures the importance of each moment, unique and valuable, and, through art, brings beauty, combining balance, harmony and peace.
The landscapes painted by Jordi Isern are wide and, in spite of all their great panoramas, they have the emotive intensity of detail. When we contemplate them, we feel the freshness of life in the grass and, at the same time, we are happy to see some town houses while a soft mist envelops everything.
On this occasion, by exception, the inaugurations will be on Tuesday with the artist and the art critic Mr. Josep M. Cadena. We will be waiting for you this TUESDAY, October 30 at 7:30 p.m.