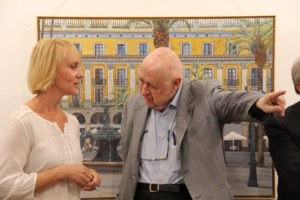 Coinciding with this inauguration, Katerina Alavedra-Duchoslav celebrates 20 years of her artistic activity in Sant Cugat del Vallès. Today, some special guests have accompanied her: the writer Monika Zgustová; Àngels Ponsa, former director of Culture of our town hall and now Directora General in the Generalitat of Catalonia; and Mr. Jaime Martín Puchol, Honorary Consul of the Czech Republic. Everyone has had words of praise and appreciation for Katia.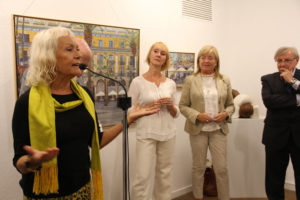 Monika Zgustová —also Czechoslavak and veteran friend of the artist— has made a friendly presentation: Katia, one Catalan more among us— has marvelously saved her original roots, both Czechoslovak (from her childhood) and also Swiss (during her youth). Her work reflects all this human wealth. «Here we can see Praga, Barcelona… Katia is all that: all these sites are part of her».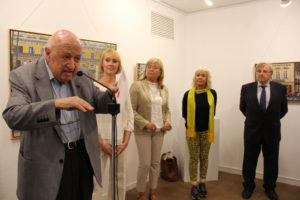 At the vernissage was present, logically, Mr. Josep M. Cadena, our art critic: «There are many trends within figurative painting. Katerina represents the most descriptive figuration of things because she does it with a feeling and a presence that reminds us -through her squares, streets, interiors…- that we are all part of a society. When you stop in front of each of her paintings, you feel satisfied».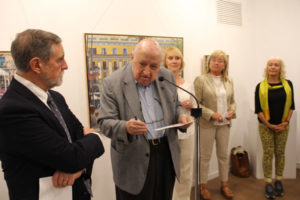 «Katerina Alavedra-Duchoslav's painting is as solid, balanced and harmonious as the squares, houses and intimate spaces she represents. Our artist knows how to establish links between Czech and Catalan landscapes through the common element of civility» (from the writings of Mr. Josep M. Cadena).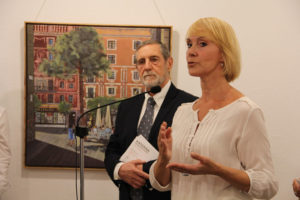 Katerina thanked the support of the speakers, as well as the presence of a good group of friends, students and family. «Until arriving here I have worked during five years… This exhibition at the Rusiñol Gallery is totally unpublished». She has also specially expressed thanks to her husband: «Without him I couldn't prepare this exhibition».

MORE PHOTOS