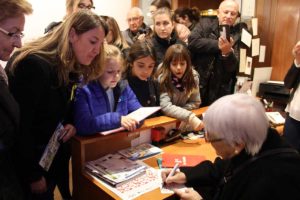 Today we are having a very special visit: Pilarín Bayés. In fact, the very first act of the inauguration has been happened at the entrance of the Rusiñol Gallery: the artist —surrounded by a large number of young and less young— has devoted some time to sign copies of her book "My life".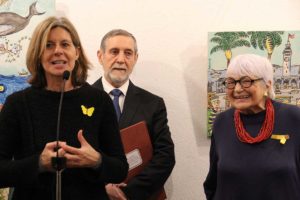 The second surprise of this inauguration: the Mayor of Sant Cugat del Vallès, Ms. Carmela Fortuny, has introduced the speeches. After thanking the cultural commitment of the Rusiñol Gallery with the city, she has praised the artist so much that she ended up saying: «I would like to be like you».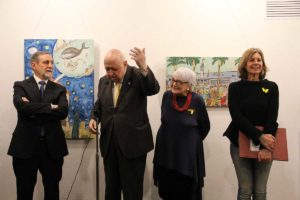 The enormous traffic troubles could not stop the arriving of our art critic, Mr. Josep M. Cadena. Still snorting to get the Rusiñol Gallery on time and to make his way inside the Gallery, he has given us an interesting light: «You could think that the style of the Pilarín is" humoristic", but in reality I would classify it as "humanistic"».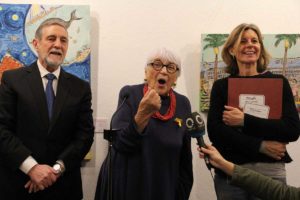 «Tenderly ironic, serious and funny, Pilarín Bayés achieves a perfect combination of descriptive realism and high artistic creativity. Everyone can feel identified in his drawings, full of life in the stroke and in the colors» (from the writings of Josep Mª Cadena).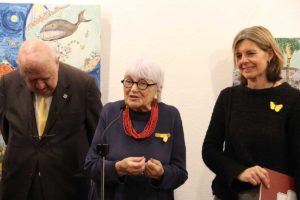 Before the usual raffles of each inauguration, Pilarín Bayés addressed us a few words of thanks and she has said that what is most fulfilling in her life is being able to teach others. There hadn't been questions from the attendees because a lot of them wanted congratulate her, talk with her and ask her for a firm o to be photographed with her…

MORE PHOTOS